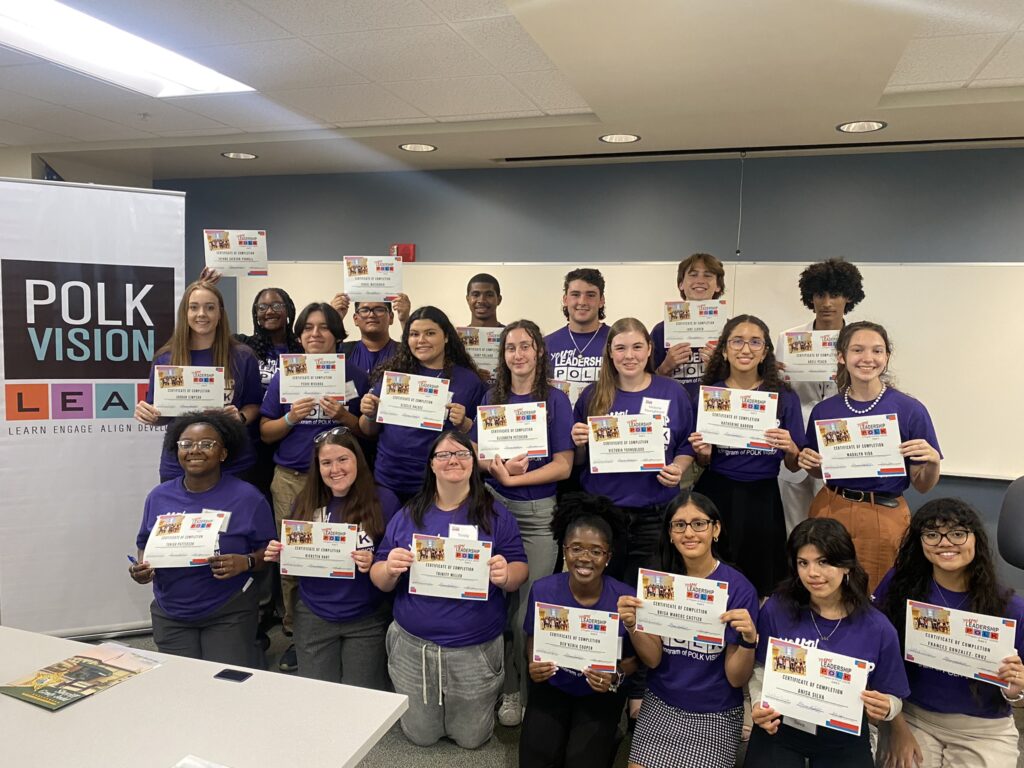 Inspiring Young LEADers
Youth Leadership Polk completed its fifth year in 2022. The program is made possible through a collaborative partnership between Polk Vision and Girls Inc. of Lakeland and Bartow, Girls Inc. of Winter Haven, Boys & Girls Club of Polk County, Polk County Public Schools Career Academies, Youth Leadership Winter Haven, Youth Leadership Lake Wales, Northeast Polk Youth Leadership, and UthMpact.
Youth Leadership Polk is a dynamic, extracurricular learning experience designed to cultivate highly beneficial leadership skills. Class members have the opportunity to connect with a broad range of community leaders, business professionals, elected officials, and educators from across Polk County; all of whom will engage in career conversations to guide students in planning for their future.
What to expect from the YLP experience?

Interactive workshops led by experienced leaders in Polk County
Guest speakers from a broad range of work fields
Exposure to the rich opportunities across Polk County
Networking with a countywide peer group
Job shadowing experience in your field of interest
Personalized guidance to develop leadership skills
Potential for college recommendation letters
Opportunity for scholarships
Youth Leadership Polk is comprised of juniors and seniors in high school convened for a weeklong summer experiential learning program, monthly softskills lessons, and a job shadowing experience. Students learn components of environmental responsibility, government and public policy, history and culture, community health, and public safety while expanding their academic knowledge.
Members of the Leadership Polk Alumni Association and other dedicated business leaders from across the county volunteered as guest speakers, hosts and instructors.
---
Application
Here is important information regarding the program and how you can support your student in applying for Youth Leadership Polk.
Youth Leadership Polk Brochure
Application Requirements and Agreement
Class size is limited so we encourage all nominees to submit their applications early. The application can be filled out at the following link: https://form.jotform.com/230155021756044
---
Youth Leadership Polk is a Program of Polk Vision and is funded in part by Leadership Polk Alumni Association.
Class V was sponsored by Crosswired Electrical Services, Duke Energy, Florida Polytechnic University, Cam's Catering, The Lay Group – Keller Williams, Polk State College, and Polk County Public Schools.